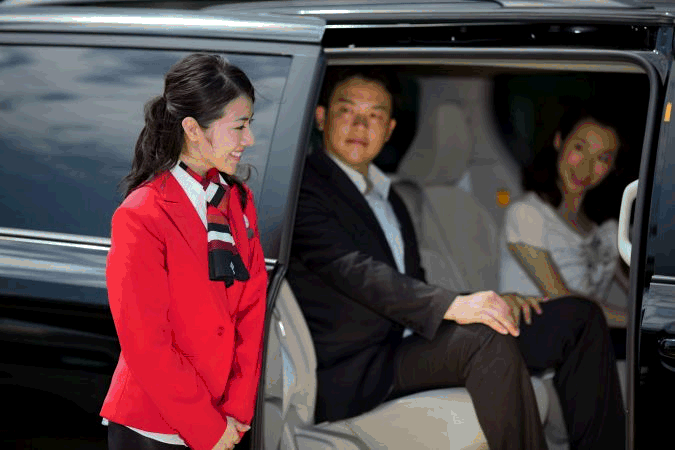 Avis Chauffeur
Avis Chauffeur brings simplicity and peace of mind to your customers. For those who are unable to self-drive in countries where local laws prohibit it or for travellers who simply prefer to enjoy the drive from the back seat, Avis Chauffeur is available for point-to-point transfers or for options by duration.
The fleet consists of an extensive range of vehicles including Luxury Sedans, Luxury MPVs, SUVs and Coupés, with esteemed brands such as Audi, Lexus, Mercedes, Peugeot, Renault. Avis chauffeur-driven services are available in selected countries in Europe, the Middle East, South Africa and Asia.
Explore new climes without a thought about directions or parking spaces.
Avis Chauffeur is available in France, England, the United Kingdom, Ireland, Scotland, Germany, Belgium, Luxembourg, Spain, Italy, Sweden, Finland, Denmark, Greece, Cyprus, Malta, Portugal, the Netherlands, Austria, Latvia, Lithuania, Bulgaria, Poland, Estonia, Slovenia, Slovakia, Romania, Czech Republic, Hungary and more.
Major Airports in Europe
Austria: Vienna (VIE)
Belgium: Brussels (ZYR / CRL)
France: Paris (CDG / ORY / LBG), and all airports in France
Germany: Frankfurt (FRA / HHN), Berlin (TXL / SXF), Munich (MUC)
Italy: Milan (MXP / LIN), Venice (VCE), Rome (FCO / CIA)
Luxembourg: Luxembour (LUX)
Netherlands: Amsterdam (AMS)
Spain: Madrid (MAD), Barcelona (BCN)
Switzerland: Geneva (GVA), Zurich (ZRH)
United Kingdom: London (LHR / LGW / LTN / LCY)
Major Train Stations in Europe
Belgium: Antwerp-Central Station, Brussels-Central Station, Brussels-Midi Station
France: Avis Chauffeur is at your disposal in all train stations in France
Germany: Berlin Station, Düsseldorf, Frankfurt
Italy: Central Station (Milan), Termini Station (Rome)
Monaco: Monaco-Monte-Carlo Station
Poland: Wroclaw Central Station
Romania: North Station (Bucharest)
Russia: Vitebsk Station, St. Petersburg
Spain: Atocha Station (Madrid), Sants Station (Barcelona)
Switzerland: Zurich Central Station, Geneva-Cornavin Station
United Kingdom: Cambridge Station, London Stations, Charing Cross Station, King's Cross, Paddington Station, St. Pancras
Avis Chauffeur in Asia
Brunei
Cambodia
China
Hong Kong SAR
India
Indonesia
Laos
Philippines
Singapore
Taiwan ROC
Thailand
Vietnam